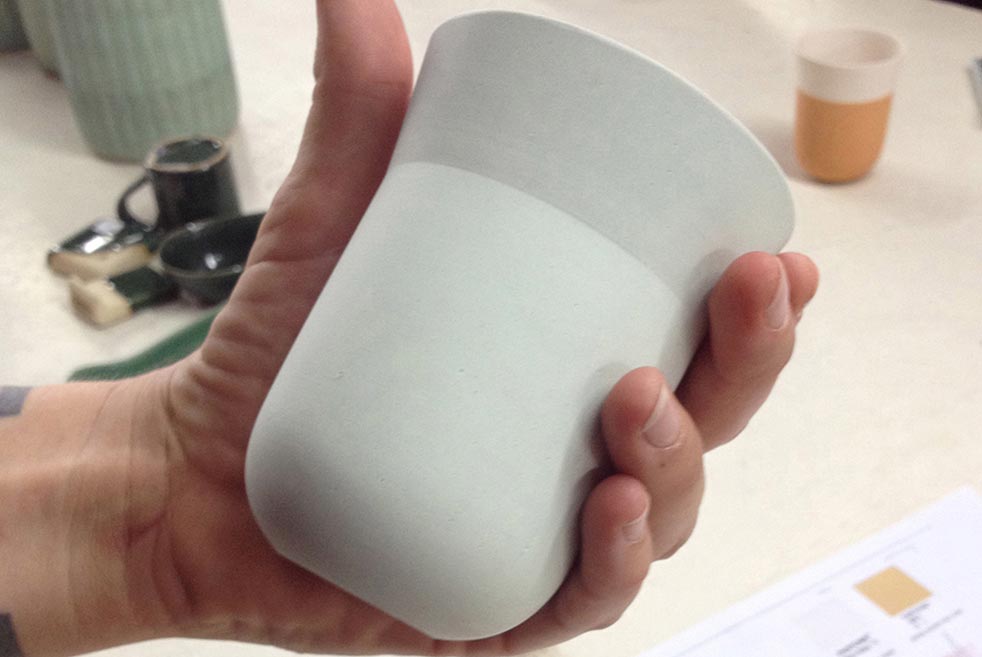 The TCHAA cups are a reinterpretation of the traditional Indian Tea cup. Originally chai cups are made from sun-dried clay, used one time and then thrown on the floor, blending back into the earth again. Beside the fact that this traditional object is a beautiful example of sustainability, what we also really liked in it, was its raw and yet very functional design.
Like the Indian cups, we designed the TCHAA cup without any handle, keeping the object as its original form, somewhere between the cup and the glass. In order to prevent the user from the heat we drew a large flared collar delimiting the area of grabbing on the top of the cup.
For this project we wanted to work on a more lasting object so we re-think it in sandstone, much stronger material allowing us to draw a thinner and more regular shape. Unlike the Indian one, the sandstone is fired, enabling to coat the ceramic with a colored glaze or textured "engobe".
At NAAdesign we like the contrast. So we decided to use the both techniques. Once the TCHAA cups are engobed with terracotta and fired, they are then enameled with matte colors. The warmth texture of the a sandy terracotta gives a sensual and cozy touch while the bright colors of the glaze catch our eyes and invite our lips to take a sip.